Business Plan Primer for Entrepreneurs
Yikes! Do I Really Need a Business Plan?!
Workshop Length: 3.0 hours
Description
The purpose of this workshop is to introduce the learner to the business plan as an opportunity to become an expert for his or her own business. The session will begin by highlighting the importance of market research and providing the learner with a process for researching a business idea. The business plan will be presented as a structure which helps to organize market research and enables the developer to prove or disprove his or her business case. All aspects of the business plan are covered, including developing a business concept, building a marketing strategy, planning business operations, and an overview of the financial section for a business plan.
Small group learning activities are followed with time to ask questions or share what he or she has learned. Each participant leaves the workshop with a clear understanding of the next steps needed to complete the business plan. For this workshop, successful outcomes can include deciding to complete a business plan, deciding to hire a consultant, or moving on to pursue further education or training.
Course Goals
At the end of this workshop, you will be able to:
List the benefits of developing a business plan
Recognize the elements and structure of a business plan
Explain primary and secondary market research
Recognize a logical process for researching a business idea
Review basic business writing techniques
Identify sources of assistance and information
Recognize how to prove a business case
Determine whether to research and write your own business plan
What You Will Learn
What a business plan is and why it is necessary
How to organize your market research
How to organize your market research
How to prove your business case
How to avoid business planning pitfalls
How to prepare a professional business plan
Where to get business planning tools
Where to access information and get help
How to prepare a professional business plan
Where to access related educational opportunities
This Workshop is for you if…
You have a business idea and wonder if it is worth pursuing
You have an opportunity to start, purchase or expand a business
You want or need to develop a business plan
You wish to transform your work experience or hobby into a business
You have basic reading and writing skills
This Workshop is for…
Anyone wishing to develop a business plan
Business planning facilitators, trainers, coaches
New business start-ups
Small or micro-business owners
Workers who wish to become self-employed
Non-profit organizations aspiring to develop a social enterprise
Business owners who need to refocus or expand their business
What you can expect…
This workshop is learner-centered and designed for maximum participation and practice. You will fill your business planning tool chest with tricks and techniques in a safe and fun learning environment. You will leave the workshop with a clear idea of what a business plan is and how to go about developing one. Most importantly, you will know whether you are ready to develop your own business plan, take further training or hire a consultant to develop your plan for you.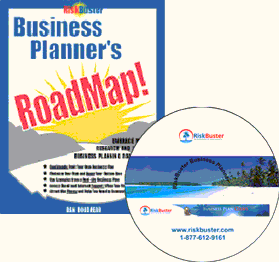 What you will get…
Each participant will get a copy of the 99-Step Business Planner's RoadMap™ and the RiskBuster™ Business Planner. The RiskBuster includes a sample business plan and the Biz4Caster™, a spreadsheet-based forecasting template.
Who will facilitate this Workshop?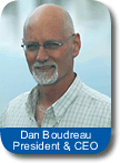 Dan Boudreau
President and CEO, Macrolink Action Plans Inc.
Call or email for a quote today:
info@riskbuster.com
Toll Free 1-877-612-9161