Capacity Train the Trainer
A Dynamic Growth Experience for All Who Yearn to Share Knowledge with Others
Workshop Length: 14 to 35 hours
Description
The Capacity Train the Trainer workshop is a laughter-filled, hands-on adventure in learning. Men and women come with their personal experience and during the 5-day session, they build their confidence and develop their unique strengths to successfully facilitate lively, enjoyable training sessions. Participants gain the know-how to use methods and equipment essential to today's top trainers by facilitating portions of the workshop themselves and receiving evaluations regularly. By respecting and integrating adult learning principles, participants develop the skills and knowledge to construct course outlines and lesson plans that translate into rich learning environments. They learn to create workshops that influence the physical, emotional, intellectual and spiritual needs of their learners in wondrous ways.
Graduates emerge from this workshop celebrating their strengths and feeling confident. They re-enter their workplace, career, and community with passion, vigor and vision. Each person takes away an armload of professionally designed resources and a certificate to proudly display among their achievements and successes.
Course Goals
At the end of this workshop, you will be able to:
Write an activity plan
Apply adult learning principles and techniques
Organize training resources effectively
Use training equipment confidently
Develop and deliver dynamic presentations
Facilitate and participate in icebreakers and energizers
Observe how software is used to develop training
Create an inventory of hot tricks for trainers
Employ a variety of teaching strategies
Adapt to different learner styles
Manage difficult participants
Incorporate diversity into learning events
Evaluate participants, materials and training events
What You Will Learn
What a training plan is and why it is required
 How to evaluate courses and workshops
Adult learning principles and techniques
Where to access icebreakers and energizers
How to organize resources effectively
 How to use software to develop training
How to develop dynamic learning events
How to use a variety of teaching strategies
 How to adapt to different learner styles
How to manage difficulties and diversity
This Workshop is for you if…
You are mature and have skills and knowledge to share
You have work experience in the topic you intend to teach
You have a minimum of grade 8 academic skills
You wish to start or expand your training business
You wish to provide training as a part of your job
You are passionate about being a trainer
This Workshop is for…
New trainers
Workers who wish to train others
Trainers with little or no formal training in instructional techniques
Supervisors and managers
 Experienced trainers who wish to revitalize and spice up their workshops and presentations
What you can expect…
Hard work, many laughs and a lot of fun. This workshop is learner-centered and designed for maximum participation and practice. You will take part in learning circles, questioning, group discussion, role-plays, case studies, brainstorming, games and practical experience. You will fill your tool-chest with tricks of the trade in a safe and supportive learning environment. You will leave the workshop charged and ready to deliver exciting workshops in your community!
What you will get…
Macrolink Trainer's Toolkit
How to Run Seminars and Workshops by Robert L. Jolles
The Art of Teaching Adults by Peter Renner
Macrolink Trainer Certificate
Five days of action packed, hands-on learning activities and a lot of fun!
Who will facilitate this Workshop?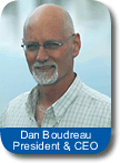 Dan Boudreau, President and CEO, Macrolink Action Plans Inc.
See what graduates are saying about Train the Trainer
Call or email for a quote today:
info@riskbuster.com
Toll Free 1-877-612-9161