Coach Your Clients to Success!
Don't jump into business without a plan!
The main reason so many new businesses fail within the first 3 to 5 years – is lack of a business plan! Wise entrepreneurs arm themselves with business plans. And not just any business plans – it's plans they research and write themselves. As the business owner, the loses and successes are yours – ensure success by becoming the expert for your business through your business plan. A business plan will help you leverage funding, attract investors, grab a bigger piece of the economic pie, and explore new ideas and innovations before laying your nest egg on the line. If you don't know where you are going how will you know when you get there? Your business plan will keep you, your team, and your business on track towards growth and financial success.
Get started today with The RiskBuster Business Plan Oasis.
At the Oasis you will find the RoadMap that will lead you from idea to opening day, growth and beyond. From writing your executive summary, determining your industry, researching competitors, surveying customers and forecasting sales we've got all the resources you need. The RiskBuster Online Business Plan Oasis gives you the tools you need to complete your business plan and launch your business with confidence. 24 hour access to all the resources and help along the way! With your membership get direct access to a seasoned entrepreneur – your questions asked and answered when you need them.
Introducing The RiskBuster Business Plan Oasis, The Online Business Planner For Busy Men and Women
This remarkable system makes business planning easy, fast and fun! It is for…
Entrepreneurs who need a business plan blueprint for hot new business ideas.
Experienced business owners who want to capture a bigger piece of the pie.
Investors who need to know the bottom line before buying or selling businesses.
Snapshot Of The RiskBuster Business Plan Oasis
As a member, you'll get instant access to the entire Business Plan Oasis and all you need in one place to research and write your business plan, including:
Business Planner's RoadMap Online
Written and Video Tutorials
RiskBuster Business Planner Download
Biz4Caster Financial Forecasting Spreadsheet
Fully Formatted Business Plan Template
Real Business Plan Example
Email and Phone Assistance where and when you need it!
Become a Member Today: Get Instant Access to
These Vital Business Plan Resources
#1 Business Planner's RoadMap Online
Moments after setting up your membership account you will be on your way to researching your business idea and writing your business plan using the step-by-step Business Planner's RoadMap to guide you from the idea all the way to producing, presenting and implementing your business plan.
#2:Written and Video Tutorials
Access to a growing number of video tutorials designed to save you time and make the business planning process clear and enjoyable. It's like having your own personal coach right there with you.
#3: RiskBuster Business Planner Download
All the necessary digital tools for you to successfully complete your business plan, including a business plan shell, a financial forecasting tool, a sample business plan, and the Biz4Caster Financial Forecasting Speadsheet (A fully integrated spreadsheet forecasting tool that enables you to build financial forecasts faster than you ever thought possible.)
#5: Live Events
Access online interactive webinars and teleseminars covering a range of essential topics for the growth and success of your business.
#6: Business Plan Oasis Insider eZine Twice Each Month
Get the popular RiskBuster Business Plan Oasis Insider publication delivered right to your inbox twice each month, with practical tips and easy-to-use tools for growing your business in the future
#7: Business Plan SpringBoard
Business Plan SpringBoard, located within each step of the RoadMap, includes links to more than 120 business articles, 66 business planning worksheets, and growing number of tutorials, a goldmine of answers to frequently asked questions, and all the links you need to research your market and plan your business.
#8: Macrolink Sample Business Plan
A copy of the Macrolink Action Plans Inc business plan in MS Word format, ready to adapt to become your business plan, as well as a PDF copy.
#9: Access to Oasis Resources 24/7
Businesses germinate and blossom around very busy people who lead active lives. Being online enables you to create your business plans on your own terms and at your own pace. One of the challenges with group business planning is that your process never does quite conform to anyone else's. The Oasis is open for business when you are, night or day, wherever you are.

#10: Access to Assistance Where and When You Need ItAs you work through your business plan, speedbumps and questions are bound to pop up. Sometimes all you need to keep pushing forward is a quick answer to a question or a guiding hand. From within the Oasis you are never more than a click or a phonecall away from help. You'll find we're tremendously encouraging.
#11: Business Planner's RoadMap eBook
A logical 225 page step-by-step process that will help you combine your knowledge, your skills and your passion to build a strong business plan to serve as a blueprint to follow to fulfill your business vision. Whether you're new to business or already in business, the Business Planner's RoadMap eBook will make it easier for you to breeze through the researching, the writing, and the financial forecasting!
#12: Business Plan Oasis Community Forum
Join Team Oasis, other business planners and a growing network of Business Plan Coaches and Facilitators in discussing relevant topics and troubleshooting business challenges in a supportive open environment, all geared to help keep you motivated and focused on starting or growing your business.
You've heard about working smarter, not harder! And this is one wheel you don't have to re-invent. Why risk making costly mistakes, when I've already made the mistakes, paid the price, and gone to the effort of developing the solutions.I've kept track of every hard-earned secret you need to know — from organizing your market research to creating a compelling business case, and how to fast-track to earning top profits from your business! And you'll find them all at the RiskBuster Business Plan Oasis.
"RiskBuster will definitely help entrepreneurs reach their start-up goals, as well as helping existing businesses to streamline their operations—this is a must have for the small business owner! I believe that this information is more important to the success of a business than the products or services that they sell. I look at it like planning a fishing trip, if you fail to plan ahead to bring a fishing rod, lures, bait, sunscreen etc. your trip may not be successful or very enjoyable. The information provided in RiskBuster helps business owners prepare for challenges that are presented to them so they can have a successful and enjoyable trip in their business ventures. I know it has been a huge part of the success of my business."
Joe Lewis, Owner, Joe-Lewis Fishing Adventures
Buy your Membership now and start your business plan today!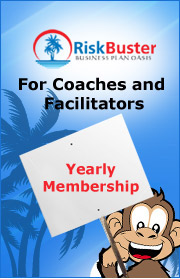 Do these Seven RoadBlocks Sound Familiar?
If you're starting, growing or buying a businesses, you'll understand my story. I am a home-based small business owner who needed to develop a business plan in order to start my business. When I set out to create my first business plan, I hit roadblock after roadblock, and, pressured for time, I finally started my business without a written business plan. After slugging it out in a feast and famine market for six years, I went broke and lost everything I had worked so hard to gain. I was devastated! I learned the hard way how vitally important it is to have a business plan. You don't need to retrace my steps or endure the mistakes I made! Yet, when I set out to write my business plan, I discovered these daunting roadblocks.
Roadblock #1: Business Planning Knocks Me Off The Path To Start-up/Growth
Solved – Clear Step-by-Step RoadMap
Developing my first business plan was like pulling teeth! All I wanted was to get my business started and do the work I loved to do, yet I was being forced into to developing a business plan, which I knew nothing about. Like you, I did a lot of homework. I read books on business planning. I attended business planning workshops and courses and networking groups. I invested far more time than anyone should learning how to navigate the murky waters of researching and writing my own business plan.
Roadblock #2: Nobody To Guide Me Through The Market Research Maze
Solved – Fully Integrated Market Research
Then I discovered another challenge with the business planning process. Everyone will tell you that you need to do a thorough job of your market research. In fact, most businesses fail because of inadequate market research. Yet, when I dug deeper, I could not find a clear market research process for novices. It was like the research piece was separate from the business plan, with no clear directions on how to connect the two processes!
Roadblock #3: It Costs Too Much To Hire a Professional To Do My Business Plan
Solved – Easy To Do It Yourself!
At the depth of my frustration, I tried hiring a consultant to develop my business plan for me. I was shocked to learn that the fees would cost all of my business start-up funds and then some. And even if hiring a consultant was an option, I would be doing most of the work anyway. Consultants can bring great value if you can afford them, but I was a small home-based novice without a lot of money to get my business started. With limited money, the only option for me was to push forward and do my own market research and write my own business plan.
Roadblock #4: Acchhkkk! Financials! I'm Not A Freaking Accountant!
Solved – 3-Year Financials in Under 4 Hours
Are you terrified of financial projections? I was. Yet the financial forecasts are absolutely critical to your business plan and necessary for the your business to succeed. It was crushing to learn that I was expected to do a number of financial reports (sales projections, cash flow forecast, pro forma income statement) about which I knew nothing. Now I'm expected to become a fully qualified accountant before I could get my simple microbusiness off the ground? It seemed as though I was drowning and someone had thrown me an anchor!
Roadblock #5: Everyone's So Critical and Negative
Solved – Positive Support When You Need It Most
I found it daunting to speak with gatekeepers (bankers, managers of business assistance programs, etc.) They were in a position of power, holding the key to the funds I needed in order to build my business. Because I wasn't confident, it was easy for them to reveal my ignorance with their probing questions and I at times I felt as though they were shooting my ideas down. In what appears to be a swim or die environment, the less confident I was, the less I wanted to expose myself to ridicule by asking questions.
Roadblock #6: What's With All The Fake Example Business Plans?
Solved – Real Living Business Plan Example
When writing a document of any type, I prefer to have a proven successful example to follow. I found it quite unnerving that the sample business plans I found were ficticious or altered beyond recognition in order to protect the owner. There are plenty of make-believe business plan samples, but it's difficult to find real living examples.
Roadblock #7: Voids, Black Holes, Missing Links
Solved – Access All You Need In One Place
Finally, I smacked into the biggest single problem for anyone trying to create a business plan. After investing countless hours plowing through several books, CD's, courses, articles and case studies – I could not find one system that gave me the full business planning process in one place. Lots of materials offered pieces of the puzzle, but invariably they rely on the user to fill in missing parts, to know things you just don't know, or to have skills that don't come naturally unless you've developed a business plan before. Nowhere on the planet is there a one-stop, how-to system for the do-it-yourself novice business planner… until now.
From those early efforts I realized I needed more than the business planning tools offered. So I set out to write the book and create the system I so desperately needed back then! I designed the Business Planner's RoadMap and tested it by using it to develop my own business plan. I then asked several friends and collegues to test it. Over time I fine-tuned the process and crafted my business plan to use as a living example and blueprint for my own business. (Yes, my business plan is in the book, and it IS the real deal.)
"All team members came to this project with very limited experience with the ideas and vocabulary of business planning. The Business Planner's RoadMap™ is quite simply the most well-written, clear, nearly fool-proof guide that we have seen for the novice business planner. By breaking the tasks down into so many small steps and providing good summaries of how these are to be done, Mr. Boudreau has made the whole process less intimidating and yet comprehensive."
–Norman Dale, Project Manager, Wood-Bee Business Planning Team
Buy your Membership now and get started on your business plan today!
Add to Cart Icon
Here Are 7 Critical Ways RiskBuster Business Plan Oasis Will Help You
and Why You Cannot Afford to Ignore This Offer
1. The Business Plan Oasis will save you time.
You don't need to continue wading through endless sea of business planning books, systems and materials that don't really give you enough real substance or the confidence to succeed. At the Business Plan Oasis we promise you won't be left hanging or frustrated by missing information or partial answers – it leads you through the full, hands-on, step-by-step business planning process, from idea to opening day!
2. The Business Plan Oasis will cost you less.
Avoid giving thousands to professionals that, when it comes right down to it, don't really know your business as well as you do. That $10,000 you might have paid a consultant? Guess what – you can keep it in your bank to help you grow your business!
3. The Business Plan Oasis will save you energy.
Cut to the chase with the step-by-step Business Planner's RoadMap. Imagine starting and growing your business confidently, knowing your priorities and critical success factors, every step of the way.
4. The Business Plan Oasis will fast-track you into owning your own business.
You have an entrepreneurial spirit, dreams and aspirations. You know thata every day spent grinding away at a boring, tread-mill job is another day you have not invested in achieving your real goals. Take control of your career and your future, and work at something you love to do.
5. The Business Plan Oasis will reduce your investment risk.
Gather competitive intelligence like a pro. Business is risky and no matter which business you start, you are putting your money (maybe even your house) at risk. Your business plan is your cheapest form of insurance against loss of your investment.
6. The Business Plan Oasis will enable you to earn higher profits faster.
This dynamite business planning system dispels myths, makes the process faster and less costly. You get to start your business sooner, and get down to the business of serving yours customers, which enables you to earn profits sooner.
7. The Business Plan Oasis will propel you forward with confidence.
Whether you are starting or growing your business, you will move forward with confidence. By taking responsibility for your own business plan, every step of the way, you will know your business inside-out. You will absolutely know when and how to start implementing your plan.
A Sneak Peak at What's Inside The Business Planners RoadMap™ Online
Part 1… Get Equipped For Your Business Planning Adventure
Steps 1 to 10 begin with organizing your work space and your life to make way for the business planning process and to accommodate your new or growing business. The final step maps out how to prove your business case.
Part 2… Embrace Your Market Research… Become The Expert
Steps 11 to 30 take your hand and lead you through the market research process, the early writing of draft stages of your business plan, and determining whether your business is feasible.
Part 3… Build Your Business Concept Section
Steps 31 to 35 include drafting and fine tuning the description of your business, the industry you are in, your qualifications, your short and long-term goals. This leads to the writing of the Business Concept Section of your business.
Part 4… Map Your Marketing Section
Steps 36 to 45 cover all the elements of marketing, including your location, differentiating from your competitors, advertising and selling, your prices and pricing strategy. This to formation of the Marketing Section of your business plan.
Part 5… Organize Your Operations Section
Steps 46 to 53 cover all aspects of your business operation, including facilities, materials, risks assessment, management, employees and contractors.
Part 6… Forecast Your Financial Section
Steps 54 to 65 solve what is the most commonly feared and least understood section of your business plan, your financial projections. These steps help you navigate the sales forecast, project your labour and cash flow requirements and easily build a 3-year financial scenario complete with income and balance sheet pro formas.
Part 7… Assemble Your Appendixes
Steps 66 to 89 are an inclusive array of possible additions that can add credibility by supporting statements or claims made in the body of your business plan. Don't worry, no business plan will use all 24 Appendices, but they are here should you need them.
Part 8… Craft Your Introduction And Final Presentation
Steps 90 to 99 are the final steps of preparing and packaging your business plan for it's intended audience. Steps include building your title page, writing your Executive Summary and cover letter.
Six More Reasons to Become a Business Plan Oasis Member Now!
1. You don't need a formal business education in order to write your own business plan. Your business plan is for you first, and then your target audience. Don't be daunted – you don't need an MBA or a degree in accounting or law to do your own business plan!
2. You don't need a lot of money to start a business. The world is full to the brim with business opportunities that require little or no money to start. You can choose a business that fits your financial ability.
3. Bigger is not always better when it comes to business. Many micro or small businesses do just fine as single operator, home-based enterprises. If your goal is to build a small venture, know that the marketplace is for you too!
4. A business is not a "get-rich-quick" scheme. Many business tiny businesses serve the needs of their owners perfectly without the pressure of sky-rocketing profits. Through business planning, you design your business to meet your needs.
5. Your business plan is for you. The core purpose of a business plan is to prove or disprove your business case. Each step of the process will either increase or decrease your confidence in your business idea. At a certain point, after enough positive impressions, your confidence level will reach a point where you are ready to launch. As you research and build your business case, you get clearer about your business. As you gain clarity, you gain confidence. If this doesn't happen, you will drop the business idea before it costs you a lot of money, before you lose your valuable investment. Increased confidence means you move forward, decreased confidence means you drop the idea. Either way, you win!
6. Your business plan is a tool to communicate with your target audience. Once you've proven your business case to yourself, you will be able to present and prove it to others, such as bankers, investors and partners. As the expert for your own business, you will be able to share your vision and attract the talent necessary to make your business vision a reality.
We Offer You Our 100% Money-Back Guarantee!
If you are not 100% satisfied, you may cancel your membership within 15 days of your purchase for a full refund.
WHAT IS THE COST OF DOING NOTHING?
INVEST IN YOURSELF TODAY – YOU ARE WORTH IT!
Buy your Business Plan Oasis Membership now and get started on your business plan right away!
Produc Graphic
Special Bonus Offer! Buy Today and also Receive a Copy of the RiskBuster eBook Absolutely Free –

$9.95

If you're serious about learning the craft of turning your business idea into cash and the lifestyle you desire, don't let this opportunity slip through your fingers.
We wish you every success in your business pursuits.All the best,
Dan Boudreau, President and CEO
Britta Langin, Manager of Marketing & Promotions
Macrolink Action Plans Inc. aka Team Oasis