Do you have a business idea?
Do you want to own your own business?
Get started Writing Your Business Plan Today
with the
JumpStart Your Business Plan Online Course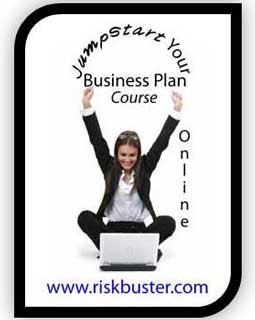 If you want to start your own business and are new to business planning and business ownership this is the course for you!
In this course, Dan Boudreau will lead you through set up steps to getting orientated and organized for business planning. He will walk you through establishing timelines, creating an action plan, learning about your industry, and discussing why proving your business case is so important. Dan will show you how to prove your business case and what actions strengthen your case vs, those that weaken it.
What you Get:
1. The JumpStart Your Business Plan course video recording (your access never expires watch whenever you want and refer back to it and watch as often as you'd like)
2. Resources including worksheets and videos to assist you in writing your business plan
2. Membership to the Business Planner's Online RoadMap at www.riskbuster.com
The RoadMap is an online step-by-step guide to writing a successful business plan. It contains worksheets, links to relevant market research sources, and examples of narrative and financial business plan elements
3. Business Planner Download Which Includes:
Business Plan Shell (business plan template)
The Biz4Caster (a forecasting spreadsheet tool)
A sample business plan (of an actual, real life business Most business planning resources give you dummied plans which we don't think is helpful. At all.)
RiskBuster eBook
4. Video Tutorials to assist in getting started with and using the tools contained in the Business Planner Download.
5. Discount on future courses and webinars. (As a member of the Online Business Planner's RoadMap you will receive a discount on all future courses and webinars purchased from RiskBuster).
6. Support and Guidance – We are only ever an email or phone call away! Sometimes all you need to move forward on your business plan is a quick answer or to bounce ideas off someone. We are here for you.
What Does the Course Include?
The course is based on the first 10 Steps of the RoadMap contained in the section Get Equipped for Business Planning. Here's a quick look at the first 10 business planning steps:
Step 1 Welcome to the RoadMap
Introduction to the Business Plan: Structure and Process
Step 2 Prepare to Embark
Time Management for the Business Planner
Step 3 Chart Your Path
Choose the tools you will use to write your business plan
Step 4 Organize Your Workspace
best practices for file naming and storage (both online and offline)
Step 5 Establish Your Timelines
Set goals for Opening Day, completing various components of your business plan
Step 6 Create Your Action Plan
Identify obstacles and resources that will help you achieve your goals
Step 7 Wade Into Your Industry
Learn how to find out what industry your business falls under
discover what the leaders in your industry are doing
learn how to research your industry
learn how to become immersed in your industry
Step 8 Start a Research Scrapbook
Discover the benefits and fun in keeping a scrapbook of ideas, and research items along your business planning journey
Step 9 Write Your Business Vision
Learn how to craft your business vision to use a benchmark for creating your business plan
Step 10 Prove Your Business Case
The most important step in planning a business. In nutshell, Proving Your Business Case means answering the question, can I sell enough products and/or services to survive.
In this part of the webinar you will:
Learn what actions will strengthen your business case
Discover actions that weaken your business case
How it Works:
The webinar will walk you through Steps 1-10 of the RoadMap
Watch the video, take notes, follow along in the RoadMap, email us your questions
After watching the webinar video, work through the RoadMap, completing the action items for each step
Access additional videos tutorials, narrative, worksheets, and helpful links from the RoadMap
Stay connected, let us know what business you are working on, asks questions, get feedback
Have fun, gain confidence in your business idea, become the expert for your business
Get Started Now!
Get the JumpStart Your Business Plan Course including membership to the Business Planner's Online RoadMap and the rest of the resources listed above for
$67.00
We are currently in the process of upgrading our payment options. Please contact us toll free at 1.888.612.9161 in you are interested in accessing this item.
P.S. Congratulations on taking this exciting step towards owning and operating your own small business. You are in for an exhilarating journey!