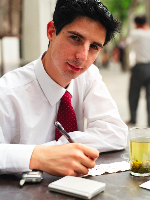 Mention the need for a business plan to the uninitiated, and they will likely give you a lot of reasons why they don't need one. But anyone who has successfully completed a business plan knows it is a healthy learning process that enables you to manage risk and confidently start or grow your business.
Keep the body of your business plan brief. Attach important detail and supporting information in the appendices. In the body of your plan, make reference to the appendices so your readers will know where to find details.
Write for your average reader. Don't try to baffle your reader with big words. Explain any terms that might be confusing. Break the complex down until it becomes simple.
Clarify your assumptions for the reader. You will be doing some guessing. If you're assuming an interest rate of 8 percent, say so. Use only the safest assumptions, and use them sparingly.
Support your narrative and financial assertions with relevant documentation. There are a number of possible appendices that might add to the credibility of your business plan. For example, if your resume will help your reading audience to understand why your experience qualifies you to own and operate the business, attach it to your business plan.
Don't slag your competitors. They are not necessarily enemies, just people who have similar goals to yours. When describing the competition in your business plan, never be critical of them; focus on your strengths and positives rather than the competitors' weaknesses and negatives.
Prove your business case. First, identify any potential flaws or reasons your business might fail. After that, if you still have confidence in the idea, go all out to prove the business case. In its simplest form, this means ensuring that your business can survive in the gap between supply (cost) and demand (price). If you can't prove your business case find a different business or get a job.
Eliminate inaccuracies and inconsistencies. A good business plan will increase your confidence by enabling you to minimize uncertainty. On the other hand, mistakes erode confidence. Always have someone proof read your draft plan before attempting to use it to apply for a loan.
Don't make your reader to go fishing for information. Create one complete, cohesive communication package that makes it easy for your reader to read and understand.
A good business plan template provides you with a checklist so you don't miss important points, and a sensible structure in which to organize your thoughts and information. A business plan makes it possible to identify and solve potential problems before you risk your house equity or savings on a business venture.
For a free business plan template visit http://www.riskbuster.com/tools/
Related Articles:
Make a Plan to Succeed in Business
Eight Tips for Planning Your Business