Access Powerful "Hands-on" Training, Research Your Business Idea and Write Your Business Plan!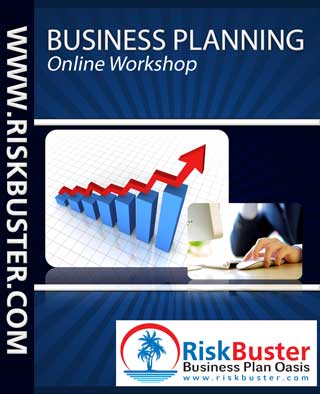 Join the RiskBuster Team for the Business Planning Online Workshop. Master business planning and market research skills and techniques so you can confidently start or grow your business! Use your business planning skills to develop a business plan you can use to start a business, grow an existing business, attract investors or leverage funding. You will learn how to research competitors, complete market research, develop the basis of a marketing plan and create one or more 3-year financial projections.
You've heard it said that four out of five new businesses fail in their infancy. That's a scary statement. We think it's misleading. We think it should go like this – four out of five businesses that fail to plan fail.
The top value of the Business Planning 2012 Online Workshop is that you become the expert for your business by building your own business plan. Working your way through a business plan gets you grounded in your business and takes you to opening day with confidence. The business plan removes much of the guesswork, freeing up your energy to focus on serving customers and making money.
In 30 years of owning businesses and coaching others to start businesses, I have learned that there are five essential keys launching any business: Continue reading Join us for the Business Planning Online Workshop →