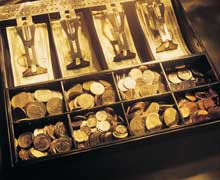 Too often, business owners who get into trouble don't even know they're insolvent until the landlord puts a lock on the door.
A business plan sets the owner up with a basic understanding of business financials, and helps avoid the carnage. All business plans should include a cash flow forecast, pro forma income statements and balance sheets. In addition to these three critical components, there are a number of other financial reports that can help entrepreneurs understand how their business works.
Here are nine financial reports and a brief explanation of each.
1.    Sales Forecast. A first year, 12-month projection of the number of units and the values for each product or service you will sell. A good sales forecast shows slower times, busier times and growth or shrinkage – it is the basic building block that enables owners to determine whether or not the business will bring in enough money to meet their financial expectations.
Continue reading Financial Reports That Help You Understand Your Business →