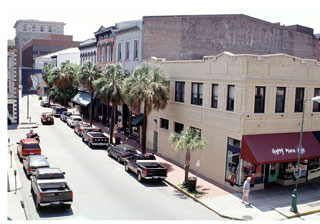 There's an aged saying in the business world, "There are three rules of marketing—location, location, location." If you want to catch fish, you need to position yourself where there's fish. If the fish can't find your bait, if customers can't find your shop, you're out of luck and probably out of business. No customers, no sales, no go.
Selecting the right location means different things to different businesses. Here are a few things to consider when choosing the right location for your business.
Clarify Your Business Vision. Determine what you see for your business in 1, 3 and 5 years. Envision what size it will be, what sort of traffic you want and who you want for neighbours.
Identify Your Target Customer. You need to know who your customers are in order to pinpoint your business location. High foot traffic doesn't automatically convert to lots of customers. Ensure the foot traffic is comprised of folks who match your customer profile and who will stop by to throw money into your cash drawer.
Determine Where The Customer Traffic Is. And then place your business there. This is as true for physical locations as it is for virtual positioning. Whether you're hoping for foot or click traffic, your business has to be visible to customers. Fish where the fish are.
Locations Can Change. If you position your retail store between a major bank and a Starbucks because of the high foot traffic numbers—the game can change if either business closes, possibly triggering moving or upgrading costs for you.
Consider Delivery Accessibility. While locating near customers is critical, accessibility to offload or pick up goods can be equally important. Is there a loading dock, and is it covered?
Speak With Other Small Business Owners. Once you've narrowed your search to a few locations, check in with neighbouring leaseholders. They may have insights to help guide your decision.
Assess the Location's Impact on Your Marketing Costs. The less visible your location, the more it will cost to get customers to your site. While a highly visible mall location will have higher lease payments, a remote, free-standing location with lower rent payments is sure to have higher marketing costs.
Check Your Neighbours. Determine whether the neighbouring businesses will be complimentary to yours and assess whether they will have an effect on your business once you're set up. Will the anchor businesses attract the right traffic for your business?
Assess Other Costs and Concerns. Will you be responsible for paying for signage and leasehold improvements? Make sure the location is zoned for your type of business, and that you'll have access to washroom facilities, parking and sanitation services. As well, check out the crime rate in the area and familiarize yourself with any restrictions on hours of operation.
Scrutinize Lease Agreements. Lease agreements are usually thick and thorny enough to warrant having your lawyer review them to ensure your interests are covered.
Setting up in a new location is not an inexpensive endeavor. It is sure to take a bite of your time, money and energy. The points above will help ensure you make the right choice and get your business on the path to success.