Business Plan Coach Skills BootCamp
Do You Coach Entrepreneurs?
A complete system along with all the tools and skills you need to coach entrepreneurs to research and write their own business plans, plus an unlimited membership to the RiskBuster Business Plan Oasis.
Length: Six 3-hour modules (total 18 hours)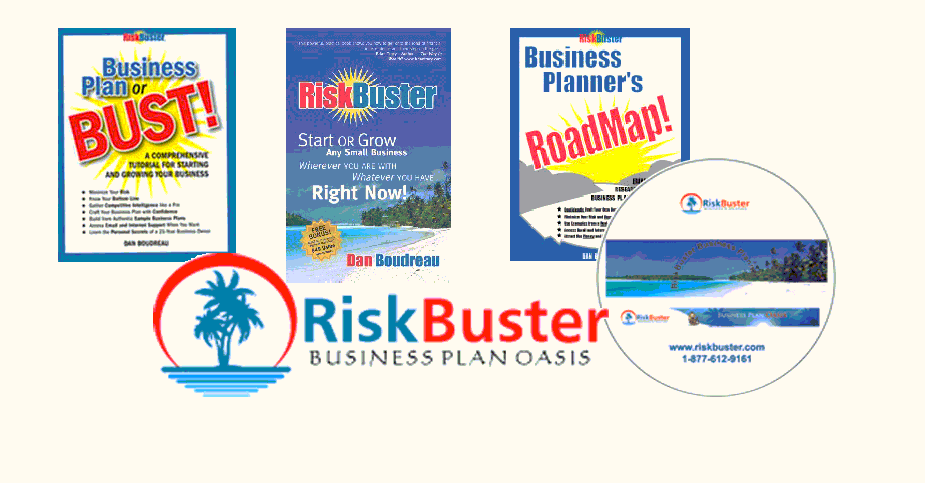 Description:
The purpose of this series of workshops is to introduce Business Plan Practitioners to business planning as an educational opportunity and an effective tool with which to coach others to become experts in their businesses. The learner will be introduced to the Business Planner's RoadMap and a manageable process for researching and shaping a business concept from the first idea to a completed business plan.
Small group learning activities are followed with time to ask questions or share what he or she has learned. Each learner will gain understanding of how to guide clients through the various steps of business planning.
Course goals:
At the end of this course, you will be able to:
Identify the benefits of a business plan
Discuss positive and negative business outcomes
Use market research process to help clients learn about their business
Discover an effective business plan structure and process
Guide clients to prove or disprove a business case
Coach clients to write draft business plan elements
Assist clients through the process of forecasting business financials
Review and decide whether to finance a business plan
What You Will Learn
What a business plan is – why it is necessary
Where to access business planning tools
To coach others to research business ideas
Where to access information and help
How to prove or disprove a business case
Effective business writing techniques
How to avoid business planning pitfalls
How to identify and manage risk
This Workshop Is For…
Business Coaches
Business Analysts
Financing or Funding Program Managers
Business Consultants
Business Plan Facilitators and Trainers
What You Can Expect
This workshop is learner-centered and designed for maximum participation and practice. You will fill your business planning toolchest with tricks and techniques, and have opportunities to practice applying new information in a safe and fun learning environment. You will leave the workshop with a clear idea of the role of a Business Plan Coach and how to assist others to develop their own business plans. Each participant will get the following workshop materials:1 copy of Business Plan or BUST! By Dan Boudreau
Module 1: Grassroots Business Development
Discuss roles and responsibilities of coaches and facilitators
Brainstorm entrepreneurial characteristics and types
Prioritize businesses according to degrees of difficulty
Identify teachable moments and opportunities to educate
Recognize positive and negative business outcomes
Discover internal and external reasons to do a business plan
Discuss the benefits of do-it-yourself business planning
Review factors that influence business planning timelines
Evaluate a business plan and decide whether to finance it
Module 2: Business Plan or BUST!
Discuss the current big picture and local economic conditions
Identify local business gaps and opportunities
Review Business Planner's RoadMap™ Steps 1 to 10
Overview of the Business Planner's RoadMap™: The Process
Discover the RiskBuster Business Plan Shell™: The Structure
Explore ways to motivate clients to be curious about their industry
Discuss the benefits of doing conservative business projections
Review the elements of proving a business case
List twenty ways to increase a business plan's credibility
Tour the RiskBuster Business Plan Oasis membership website
Module 3: Researching Business Ideas without Going Crazy
Review Business Planner's RoadMap™ Steps 11 to 31
Identify business plan supporting documents and appendices
Develop market research questions and strategy
Adapt templates to create market survey questionnaires
Coach clients to prove or disprove their own assumptions
Identify customer needs and spending habits
Ease novices into researching their competitors
Focus market research efforts by prioritizing customers
Determine feasibility and make a go/no go decision
Module 4: Tell Your Story—Make Your Case
Review Business Planner's RoadMap™ Steps 31 to 53
Install and use the RiskBuster Business Planner CD™
Discover and use the RiskBuster Business Plan Shell™
Arrange business plan folders and files for maximum retrieval
Use The RoadMap™ in conjunction with the Shell™
Discuss best practices for writing the business plan elements
Describe products and services in ways that make sense
Prepare for forecasting by prioritizing revenue streams
Discover 60 sure-fire tricks for enhancing business plans
Module 5: Take The Fear Out of Forecasting!
Review Business Planner's RoadMap™ Steps 54 to 65
Use the Biz4Caster spreadsheet-based forecasting tool
Build and troubleshoot a 3-year bottom-up financial forecast
Discuss basic business and industry assumptions
Calculate business owner's personal financial needs
Use the price generator to create units and prices
Forecast cash flow and estimate start-up expenses
Create 3-year pro forma income statements and balance sheets
Module 6: Making a Difference, One Business at a Time
Discuss the impacts of politics on small business
Brainstorm how to sift through opportunities to find real gems
Review Business Planner's RoadMap™ steps 90 to 99
Explore how eBusiness can enhance existing ventures
List sources of funding and financing for small business
Discover affordable marketing strategies and techniques
Develop business, marketing, and operations action plans
Adapt business plans to work for different audiences
Review and discuss business plan workshop strategies
Discuss ways to use what has been learned to coach others
Who Will Facilitate This Workshop?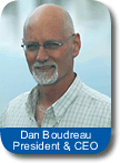 Dan Boudreau, President and CEO, Macrolink Action Plans Inc. uses the business plan as a learning process to empower entrepreneurs to start and grow small businesses and create the lifestyle and financial stability they want.
Dan has owned and operated small businesses since 1980, ranging from single owner home-based enterprises to more than 180 employees. Over the past 20 years, Dan has designed and facilitated workshops in the areas of entrepreneurship, business planning, market research, forecasting, proposal development, and train the trainer.
Call or email for a quote today:
info@riskbuster.com
Toll Free 1-877-612-9161