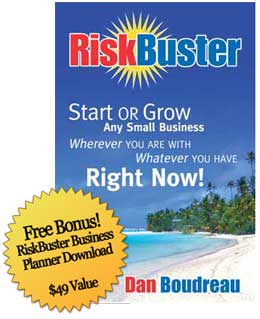 Do you have a copy of RiskBuster by Dan Boudreau? Looking for your free Business Planner Dow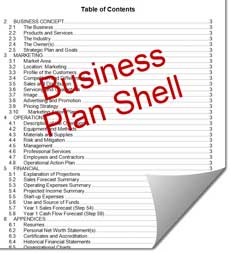 nload bonus? Click here
Looking for the Business Plan Shell™ (BP Shell™)? It is our gift to you, when you subscribe for free to the RiskBuster Newsletter below.
The RiskBuster Newsletter is filled with business planning articles, resources tips and best practices that you can put to use immediately.
In addition you might also be interested in our weekly Business Planning Tips and the Business Planning eCourse. The Tips are a series of short, easily to read business plan tips along with actions to guide your business, delivered once a week.
The Business Planning eCourse is an 8-part crash course that brings you up up to speed quickly on the critical components of a business plan. Jumpstart your business planning now!
Are you looking for the free Worksheet downloads offered in Business Plan or Bust! and RiskBuster? Click here
For Business Planner Download and the Business Plan Shell™ video tutorials visit the Tools page.
We will never share your email address with anyone.
Dan Boudreau
President and CEO
Have you attended a presentation? Looking for the notes?
ABDC Youth Entrepreneurship Camp Research Your Business Idea Without Drowning in Information 2013-03-22
RBC  Your Blueprint For the Future 2012-10-18
Aboriginal Business Development Centre Research Your Business Idea 2012-10-20