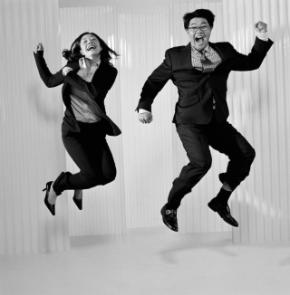 Get into a business you love. At the end of each day, you will have invested another 24 precious hours of your life doing whatever it is your business demands of you, and if you're work life isn't jammed full of activities you enjoy, you'll be wondering why the heck you did it in the first place.
Here are a few of the common motivating factors that get people starting businesses, and how they can be ultimately wrong.
Doing it for the glory. There's a certain amount of celebrity appeal to owning a business. Yet most entrepreneurs go quietly about their work, attracting the occasional snippet in press or recognition for a job well done. On the flip side, the effortless notoriety that accompanies a bankruptcy when things go sour, will not only eradicate any glory gained, but give you a black eye to carry forward for a long, long time. Glory may come in bits and dribbles, but your sure to have fun daily when love what you do.
Doing it for the money. There's a widespread misconception that owning a business is a fast-track to riches. Although business is a likely vehicle for building wealth, the early days are often littered with expensive setbacks and lessons. The wondrous overnight successes we love to hear about are usually the result of a lot of grunt work, misfires and raw perseverance.
Doing it for the lifestyle. Too many entrepreneurs jump into business to pursue lifestyle dreams, only to find they are mired in long grueling work days, anchored to a mountain of stress, and not netting enough money to have coffee at Starbucks. Lifestyle is a beautiful reason to get into business, but you really have to show the business who's the boss and do a lot of things right in order to get to where you can take advantage of any lifestyle perks.
Doing it to get on easy street. The uninitiated will look longingly at business owners and imagine they live lives of leisure, hardly working at all. That's a nice image to nurture, but just doesn't conform to the view from my home office. Getting to bask in the sun takes careful planning, and most business owners end up working double time before and after the breaks they take. Still, easy street is a valid reason to go into business and does get easier when things go right.
Doing it to retire early. As many baby boomers are learning, there are a lot of speed bumps on the path to retirement, and generally they delay business owners in the same ways they do everyone else. Bad investments, unstable economy, dishonest fund managers, all nature of shysters prying and poking at your nest egg. Careful planning, frugality, a sharp pencil, diligence, and a long trail of happy customers will lead a business owner to a comfortable retirement; it's achievable but it's rarely quick.
When you go into business, you're inviting an elephant with all its excrementitious trappings into your living room. If you're going to live with a colossal beast, it had best be one that you enjoy.
In order to avoid being trampled by your own business, it's important to know what you want to get from it, how you want it to behave, and to take control early onto ensure it meets your needs and gets you where you want to be.
Dan Boudreau is Author of Business Plan or Bust! and RiskBuster Start or Grow Any Small Business, workshop facilitator, and creator of the Online Business Planner's RoadMap.
Ready to research your competitors and write your business plan? Register now for the Business Planning Online Workshop.
Don't miss a thing – subscribe to the Newsletter here.